The Indian Slow Cooker: 50 Healthy, Easy, Authentic Recipes (Paperback)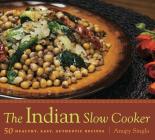 Email or call for price.
Out of Print - Not Available
Staff Reviews
---
I thought I couldn't cook Indian food due to the vast array of spices that weren't in my cupboard and the fact that I don't have a Tandoori oven—too many special things to get that I would only use for one recipe and never again.  I do love my slow cooker, so I flipped through The Indian Slow Cooker when I saw it and figured I'd give it a go. I then spent the minisculeamount of money at the bulk spice section at the Food Coop to make a meal happen.  After eight hours on low I discovered that I could cook Indian food.  I made Aloo Gobi!!!  Then came the dals.  And the nihari.  And the chicken tikka masala.  This is the most consistent cookbook I have ever cooked from.  The recipes that aren't fantastic are excellent.  Highly recommended. 
— Andy
Description
---
This unique guide to preparing Indian food using classic slow-cooker techniques features more than 50 recipes, beautifully illustrated with full-color photography throughout. These great recipes take advantage of the slow cooker's ability to keep food moist through its long cooking cycle, letting readers create dishes with far less oil and saturated fat than in traditional recipes. Anupy Singla shows the busy, harried family that cooking healthy is simple and that cooking Indian is just a matter of understanding a few key spices. Her "Indian Spices 101" chapter introduces readers to the mainstay spices of an Indian kitchen, as well as how to store, prepare, and combine them in different ways. Among her 50 recipes are all the classics -- specialties like dal, palak paneer, and gobi aloo -- and also dishes like butter chicken, keema, and much more. The result is a terrific introduction to making healthful, flavorful Indian food using the simplicity and convenience of the slow cooker.
Praise For…
---
"Of all the world's cuisines, India's is perhaps best suited to the steady simmer of a slow cooker...If you love Indian food, have a look at Anupy Singla's The Indian Slow Cooker. Folded in with lush food photography are easy, healthful recipes with traditional flavors." Lois White, Better Homes & Gardens

"My favorite new slow cooker book is The Indian Slow Cooker by Anupy Singla....Because Indian dishes are rich in spices and robust flavors, they stand up well in slow cookers. Singla actually developed the recipes specifically for the slow cooker so the techniques and ingredients work well in the machine." Genevieve Ko, Good Housekeeping, October 14, 2011

Singla's book goes against what many believe is required of Indian cuisine--infusing hot oil with a whole mess of spices as the base for dishes. Instead, she argues, throw everything into the Crock-Pot and let the aromatics do their thing... the book gives old- and new-school cooks alike ample reason to give Indian food a shot." Janet Rausa-Fuller, Chicago Sun-Times, October 20, 2011

"Ms. Singla says her book is aimed at anyone who wants to eat more vegetarian food and she doesn't believe in calling Indian food spicy' or exotic' anymore." Wall Street Journal, India Real Time Blog, August 24, 2010

"[The Indian Slow Cooker] is slim in appearance, a mere 136 pages. Yet the author has packed its pages with 50-plus recipes, lots of guidance and enough enthusiasm for slow cookers and Indian food that fans of either or both will be prompted to try one of her recipes..." Judy Hevrdejs, Chicago Tribune, April 6, 2011

"Next time you have a hankering for Indian food, don't think take-out. Think ahead. That's the message from Anupy Singla, author of The Indian Slow Cooker who is on a mission to correct misperceptions about Indian food..." Michele Kayal, Associated Press, October 26, 2010

"In her friendly voice, Anupy Singla welcomes everyone into her kitchen, even busy and beginner cooks. With her comprehensive guide to ingredients and surprisingly simple and healthy recipes that perfume the house on a cold day, The Indian Slow Cooker is a great first book on Indian cooking. We love recommending it to our customers!" — Lara Hamilton, Owner of Book Larder, Seattle, WA

"Anupy has a fantastic blog, Indian As Apple Pie, a beautiful cookbook, "The Indian Slow Cooker", and an innovative spice box product now being offered by Williams-Sonoma." Nancy Loo, WGNtv.com, September 5, 2011

"Anupy is really on to something here. In 50 well-crafted and imaginative recipes, Anupy shows you how to use the modern slow cooker to get the beautiful, complex flavors of her ancient native cuisine. A book that will surprise you." Dorie Greenspan, author of Baking with Julia and Around My French Table, as well as contributing editor to Parade magazine, December 23, 2010

"For those who love Indian food--or who are interested in starting to explore it--Anupy shows how to prepare the classic dishes in healthful versions that use far less oil and saturated fat than traditional recipes...Anupy introduces the mainstay spices of an Indian kitchen, and how to store, prepare, and combine them in different preparations." WLS-ABC Channel 7, March 26, 2011

"The talented and beautiful Anupy Singla, author of The Indian Slow Cooker, understands that many home cooks are intimidated by Indian spices and cooking. So she created spice packets, small bundles of 5 essential Indian spices, that will get anyone cooking Indian. Demystify something for people, and they will love you." Susan Russo, writer for FoodBlogga blog and contributor to NPR's Kitchen Window

"Singla's recipes, and writing in general, exudes common sense and practicality...Straightforward, healthy recipes for easy preparations of all your favourite Indian dishes combined with mouthwatering photographs make this a cookbook any lover of Indian food will appreciate." Rebecca Baugniet, EAT Magazine