The Vanishing Man: A Prequel to the Charles Lenox Series (Charles Lenox Mysteries #12) (CD-Audio)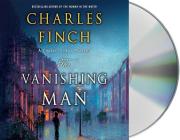 $39.99
Special Order - Usually 1-5 Days
Staff Reviews
---
What better way to banish the political woes than to drop yourself into a Victorian mystery novel? Finch has written a number of great stories about Charles Lenox, an amateur detective in the 1850s who drives Scotland Yard crazy by solving complicated problems. The first in the series was published in 2007 and they are delightful. This particular new mystery is the second prequel and takes us back to Lenox's first cases and sets you up for more. If you haven't tried them, start with this. Lenox has a neighbor, Lady Jane, who.....well, I won't spoil it. Lenox takes on a case of a missing painting, a vanished duke, and a shocking murder. He is helped by Graham, his valet, servant, devious assistant, and friend. Finch has a wonderful eye for period detail, which makes it all great fun to read. As Louise Penny says, "Bravo Mr. Finch, and keep them coming."
— Edie
Description
---
"James Langton offers a splendid narration...He makes the thefts, kidnapping, and murder a delicious puzzle for the struggling young detective and for listeners, as well." — AudioFile Magazine

From the critically acclaimed and USA Today bestselling author Charles Finch comes The Vanishing Man, the second in a prequel trilogy to his Charles Lenox Victorian series, in which the theft of an antique painting sends Detective Lenox on a hunt for a criminal mastermind.

London, 1853: Having earned some renown by solving a case that baffled Scotland Yard, young Charles Lenox is called upon by the Duke of Dorset, one of England's most revered noblemen, for help. A painting of the Duke's great-grandfather has been stolen from his private study. But the Duke's concern is not for his ancestor's portrait; hiding in plain sight nearby is another painting of infinitely more value, one that holds the key to one of the country's most famous and best-kept secrets.
Dorset believes the thieves took the wrong painting and may return when they realize their error—and when his fears result in murder, Lenox must act quickly unravel the mystery behind both paintings before tragedy can strike again. As the Dorset family closes ranks to protect its reputation, Lenox uncovers a dark secret that could expose them to unimaginable scandal—and reveals the existence of an artifact, priceless beyond measure, that the family is willing to risk anything to keep hidden.
In this intricately plotted prequel to the Charles Lenox mysteries, the young detective risks both his potential career—and his reputation in high society—as he hunts for a criminal mastermind.
Praise for James Langton as Charles Lenox:
"James Langton's vocal interpretation of Lenox adds a layer of humanity to the reserved detective...Langton gives each of the book's prominent characters a distinctive voice, but his main success is the vocal personality he provides Lenox." — Publishers Weekly on A Beautiful Blue Death
"Langton captures the vocal essence of the ruling class as well as the colorful voices of the working class...Listeners will experience the ambiance of Victorian London and hear a baffling plot expertly presented." — AudioFile Magazine on An Old Betrayal, Earphones Award winner
About the Author
---
Charles Finch is the USA Today bestselling author of the Charles Lenox mysteries, which begin with A Beautiful Blue Death. His first contemporary novel, The Last Enchantments, is also available from St. Martin's Press.
Finch received the 2017 Nona Balakian Citation Award, for excellence in reviewing from the National Book Critics Circle. His essays and criticism have appeared in the New York Times, Slate, Washington Post, and elsewhere. He lives in Los Angeles.
James Langton
is an actor and narrator who has performed many voice-overs and narrated numerous audiobooks, including the international bestseller
The Brotherhood of the Holy Shroud
by Julia Navarro,
Fire Storm
by Andrew Lane, and
An Old Betrayal
by Charles Finch. He has won multiple
AudioFile
Earphones Awards for his work in narration. As a voice-over artist, he has worked with a host of industrial and commercial clients including Geico, Johnson&Johnson, and ask.com. He is also a professional musician who led the internationally renowned Pasadena Roof Orchestra from 1996 to 2002. Langton was born in York, England, and is now based in New York City.