Dominicana: A Novel (CD-Audio)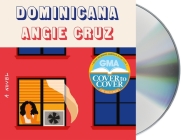 Staff Reviews
---
Turning to her mother's immigration story for inspiration for her latest novel, Angie Cruz has created a tender-hearted and inspiring character in Ana, the fifteen-year-old narrator of Dominicana. In 1965, when Ana is fifteen, her poor parents in rural Dominican Republic push her into marrying Juan Ruiz, an older man with ambitions. A contract is understood: in exchange for Ana, Juan will develop her parents' land and help the rest of her family immigrate to America. In an instant, teenage Ana is whisked off to a tiny apartment in New York City. She doesn't speak English and doesn't know a single person aside from Juan, who is controlling, abusive, frequently absent, and probably having an affair. In another author's hands, Juan could become a caricature, purely monstrous. But Cruz has created a fully realized human––an unlikable human, yet one whose deep flaws can be understood. His moods are realistically volatile, which makes him all the more terrifying to Ana. When she becomes pregnant, the walls close even more tightly around her. It's only when Juan is trapped in the DR during a military coup that Ana has the freedom to begin forging a life for herself. She explores her Washington Heights neighborhood and takes English lessons at the church across the street. But she also falls in love with Juan's kid brother, Cesar, who is watching over Ana while Juan is away. Throughout the novel, her already complicated life becomes more and more complicated. Cruz is a superb writer on every level: plot, character, backstory, setting, mood, psychology. You will find yourself utterly immersed in the wonderful Dominicana.
— Michael
September 2019 Indie Next List
---
"Angie Cruz is a beautiful writer with a powerful voice, and readers of Julia Alvarez and Sandra Cisneros will greatly enjoy this book! Dominicana is a riveting story about family, womanhood, and what it means to be an immigrant. Ana Cancion, who's only 15, leaves her home behind for a new life in New York City with her soon-to-be husband, Juan Ruiz. Big lights, tall buildings, and a bright future constitute the promise of a new beginning. However, upon Ana's arrival, her fate untangles into something unexpected. It'll be really hard to forget these characters and the realness in their heartache. Throughout these pages, I fell in and out of love, I laughed, I cried, and I was deeply moved."
— Cristina Lebron, Books & Books, Coral Gables, FL
Summer 2020 Reading Group Indie Next List
---
"Dominicana hinges on the promise of new beginnings built on generations of sacrifice and dreams. There is a path to a better life, but no manual. Alone with a husband she doesn't know, Ana carves a space for herself in Washington Heights, learning almost everything from scratch. An ode to women everywhere whose birthright is not only survival but joy."
— Amanda Ibarra, Flyleaf Books, Chapel Hill, NC
Description
---
A GOOD MORNING AMERICA COVER TO COVER BOOK CLUB PICK

This program includes a bonus conversation with the author.

Named a Most Anticipated Book by The New York Times, Entertainment Weekly, The Washington Post, O Magazine, Time, Real Simple, Chicago Review of Books, Kirkus Reviews, Nylon, BuzzFeed, Lit Hub, The Millions, Instyle, Bustle, Refinery29, Hello Giggles, AARP, Domino

"Coral Pena's strong delivery is a breath of fresh air...a master of accents and emotion, bringing genuine pathos to the story." — AudioFile Magazine, Earphones Award winner

Fifteen-year-old Ana Cancion never dreamed of moving to America, the way the girls she grew up with in the Dominican countryside did. But when Juan Ruiz proposes and promises to take her to New York City, she has to say yes. It doesn't matter that he is twice her age, that there is no love between them. Their marriage is an opportunity for her entire close-knit family to eventually immigrate. So on New Year's Day, 1965, Ana leaves behind everything she knows and becomes Ana Ruiz, a wife confined to a cold six-floor walk-up in Washington Heights. Lonely and miserable, Ana hatches a reckless plan to escape. But at the bus terminal, she is stopped by Cesar, Juan's free-spirited younger brother, who convinces her to stay.

As the Dominican Republic slides into political turmoil, Juan returns to protect his family's assets, leaving Cesar to take care of Ana. Suddenly, Ana is free to take English lessons at a local church, lie on the beach at Coney Island, see a movie at Radio City Music Hall, go dancing with Cesar, and imagine the possibility of a different kind of life in America. When Juan returns, Ana must decide once again between her heart and her duty to her family.

In bright, musical prose that reflects the energy of New York City, Angie Cruz's Dominicana is a vital portrait of the immigrant experience and the timeless coming-of-age story of a young woman finding her voice in the world.

Praise for Dominicana:

"Through a novel with so much depth, beauty, and grace, we, like Ana, are forever changed." —Jacqueline Woodson, Vanity Fair

"Gorgeous writing, gorgeous story." —Sandra Cisneros
About the Author
---
Angie Cruz is the author of the novels Soledad and Let It Rain Coffee, a finalist in 2007 for the International IMPAC Dublin Literary Award. She has published short fiction and essays in magazines and journals, including The New York Times, VQR, and Gulf Coast Literary Journal. She has received numerous grants and residencies including the New York Foundation of the Arts Fellowship, Yaddo, and The Macdowell Colony. She is founder and Editor-in-Chief of Aster(ix), a literary and arts journal, and is an Associate Professor of English at the University of Pittsburgh.
Praise For…
---
Praise for Dominicana

A Most Anticipated Book (The New York Times, Entertainment Weekly, The Washington Post, O Magazine, Esquire, Time, Real Simple, Kirkus Reviews, Nylon, BuzzFeed, Lit Hub, The Millions, InStyle, Bustle, Refinery29, Chicago Review of Books, AARP, Hello Giggles, Domino)

"Lovely…Compelling…An intimate portrait of the transactional nature of marriage and the economics of both womanhood and citizenship, one all too familiar to many first-generation Americans."
—The New York Times Book Review

"Through a novel with so much depth, beauty, and grace, we, like Ana, are forever changed."
—Jacqueline Woodson, Vanity Fair

"Poignant…In nimble prose, Cruz animates the simultaneous reluctance and vivacity that define her main character as she attempts to balance filial duty with personal fulfillment, and contends with leaving one home to build another that is both for herself and for her family."
—The New Yorker

"Ana's engrossing, lyrically told story illuminates both the pain and the potential triumph of the immigrant experience."
—People

"Sensational…At once tender, musical, and electric, this novel meditates on how immigrations shapes lives, from both without and within."
—Esquire

"The heroine of this wondrous fish-out-of-water story tries to hold steady, knowing 'a well-placed rock in a river changes the current.'"
—O, the Oprah Magazine

"In Cruz's rendering, the inevitability of hardship and the excitement of new possibilities makes for an affectingly complex journey into adulthood. Expect this to mark the author's breakout."
—Entertainment Weekly

"At 15 years old, Ana marries the much older Juan and moves to 1965 New York City so that her family back in the Dominican Republic might have a better life. Just when she's having second thoughts about her new existence and loveless marriage, she begins forming a bond with Juan's brother, Cesar. Cruz delves into the tough choices that follow in this beautiful literary novel."
—The Washington Post

"Rich, heartbreaking…A coming-of-age story about making choices for survival versus love."
—Real Simple

"Ana as narrator is mesmeric, funny, enchanting…A story of sacrifice, strength, and love."
—Houston Chronicle

"Cruz tells the story with a raucous sense of humor and writes in short, present-tense chapters that help make this a propulsive though heartbreaking read."
—BuzzFeed

"This stunner of a novel thrums with vitality, a singular addition to the canon of immigration narratives, and introduces readers to the wonderfully complex and resilient Ana."
—Nylon

"This exciting tale of immigration, love, and independence has been praised by the likes of Sandra Cisneros and Cristina Garcia, making it one of the most anticipated coming-of-age stories of the year."
—The Millions

"This moving coming-of-age story centers on Ana Canción, a 15-year-old girl from a poor family in the Dominican Republic during the tumultuous 1960s…You'll root for Ana (who's based on Cruz's mother) as she tries to navigate a new life that, at least at first, seems worlds away from the American Dream."
—AARP

"Remarkable…Dominicana is set in 1965 New York City, but the story feels especially timely in today's climate."
—HelloGiggles

"Ana Cancion's voice will grab you on page one, and ensure you'll stay through everything that faces her on a journey that's both epic yet not uncommon…A coming-of-age story of a girl forced to come-of-age too soon."
—Refinery29

"Mesmerizing…This stirring immigration story is Cruz's breakout book; it should be heralded alongside Julia Alvarez's How the Garcia Girls Lost Their Accents."
—Library Journal (starred review)

"Enthralling…[Ana's] growth and gradually blooming wisdom is described with a raw, expressive voice. Cruz's winning novel will linger in the reader's mind long after the close of the story."
—Publishers Weekly (starred review)

"Cruz writes with warmth, empathy and remarkable perception about the immigrant experience. Engaging and illuminating, Dominicana will appeal to readers who've enjoyed novels by Sandra Cisneros and Julia Alvarez."
—BookPage (starred review)

"Unforgettable…[Cruz] treats everyone from the desperately ambitious Mama to the conflicted Juan with empathy, while Ana is her crowning achievement…Cruz's ability to create mood and atmosphere with her distinctive writing style makes her a strong voice in Dominican American literature."
—Booklist (starred review)

"In this coming-to-America story, the harsh realities of immigration are laid bare, but equally clear are the resilience and resourcefulness of the people who choose to make a new life far from home…A moving, sad, and sometimes disarmingly funny take on migration and the forces that propel us into the world."
—Kirkus Reviews

"A tale from that island called girlhood. Cruz describes this shipwrecked age with giddy accuracy. A season of hope, vulnerability, and disaster. Especially for a girl of color. Gorgeous writing, gorgeous story."
—Sandra Cisneros, author of The House on Mango Street

"Dominicana is a book that grabs you, that moves both quickly and deeply, as it explores how our very personal desires and destinies are shaped by forces of culture, politics, economics, language, migration. The kind of book I am always longing to read: a sexy book that is also meaningful. I couldn't put it down."
—Justin Torres, author of We the Animals

"This gorgeous new novel by Angie Cruz holds an unflinching gaze on one young immigrant woman's life--its hardships, its hopes, and its richly depicted loves. Ana's story is filled with music and reverence for survival, and for joy. An essential read for our times."
—Cristina Garcia, author of Dreaming in Cuban

"Dominicana is beautiful, engaging, and cuts right to the heart of what it is to be a dutiful young female from a poor country who is bright in every sense of the word, full of love and hope."
—Mary Gaitskill, author of The Mare and Veronica

"From the very first sentence of Dominicana, we remember why we've missed Cruz. This coming-of-age novel with its unforgettable young heroine takes on the pressing questions of the day—immigration, identity, the claim to Americanness—with a deceptively light touch and a whole lot of charm."
—Ayana Mathis, author of The Twelve Tribes of Hattie

"Cruz's characters are authentic and complex, her writing is masterful, and there were times in the novel when the tension was so high I couldn't stop reading. Dominicana pulled on my heartstrings from the very first page. A searingly beautiful novel filled with humanity and hope."
—Etaf Rum, author of A Woman is No Man

"Angie Cruz, I'm so glad the time has come. What a wonderful, nuanced, and insightful writer."
—Edwidge Danticat, author of Brother I'm Dying and Breath, Eyes, Memory

"Cruz is a hero, a heartbreaker, and a visionary. Dominicana is a thrilling, necessary portrait of what it means to be an immigrant in America."
—Patricia Engel, author of The Veins of the Ocean and Vida

"This story feels so right for this moment. Cruz captures the texture and tenor of being an immigrant woman, caught between worlds and loyalties."
—Julia Alvarez, author of In the Time of the Butterflies

"An important novel that illuminates a world and time with truth and originality. Cruz is a brilliant novelist and her characters are unforgettable."
—Jennifer Clement, author of Gun Love

"Cruz shows how a moment in one country can reverberate for years in another. Dominicana is a fearless novel, laying bare the bewildering decisions made and revisited throughout the uncertain process of immigration and long after it ends."
—Idra Novey, author of Those Who Knew